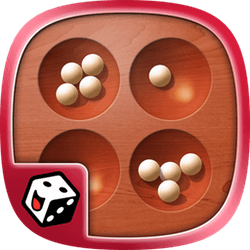 Mancala
The popular ancient African board game is now available exclusively for Android!
The games of the Mancala family are among the oldest board games in the world and are still a popular pastime in many countries. In our app we present you the Kalah board, also called Kalaha, Warri or Awari, which is the most frequently played variant in Europe and North America. You can enjoy the 2-person game online and offline. Play against the computer, together with friends and family on the same device or online against players around the globe!
You don't know anything about Mancala? No problem! Have Pearl the cheerful seashell show you how it works. In an interactive tutorial she explains rules, tips and tricks so that you can easily navigate later.
Are you curious yet? Get the app on your mobile phone or tablet right here!
By setting the amount of beads offline Mancala offers a short and a long game mode. Whether it's a quick game during your break or a few relaxing rounds in your spare time, Mancala is always fun. There is also the possibility to adjust the level of difficulty in each mode. Customize your personal gaming experience!
In online multiplayer mode, players from all over the world fight for a place on the international leaderboard using standardized rules. Compete against the best and become King of Mancala!
The 3-D graphics and physically exact animations create a realistic impression of the game board and moves. The menu elements in 2-D style add a glamorous look to everything. Wherever you are, play against real people and make yourself at home!
Many functions are already available, but that's not all. In future updates we will upgrade Mancala and add exciting new features. Download the app now and experience live how we take the game to the next level!
Visit us on Facebook and Instagram to find out more about the latest update news or take a look at what is happening behind the scenes.
---
Mancala Top 10
Last Week's Best Players
Great Features
• Play online and offline for free
• Compete against the computer or other players
• Fully interactive tutorial
• Short pastime or relaxed playing
• Adjustable difficulty and other options
• Excellent 3D graphics and animations
• International leaderboards